Quick & Easy Tahini Sauce
Prose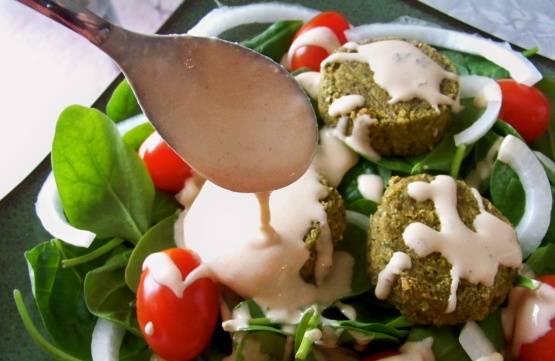 This is wonderful atop Msabbha instead of the plain tahini! Tahini or tashi as it is called in Cyprus, is a paste made from ground sesame seeds. It is usually very thick and if left a long time you will see that oil is gathered on top. You do not have to worry about that you just mix it and it is just fine. The full version is one of the many dishes served as Cypriot mezes. Original recipe from http://humus101.com.

Wonderful! Used it as a sauce but still added garlic (more than stated in the recipe............) salt, some cayenne powder and a dash of cumin. Finished off with parsley and poured over my veggies. This was a very tasty lunch. Since I have some left I I'll use it over falafel tomorrow. Will certainly make again.
Thanks for posting.
Made for ***Ramadan Recipe Tag-2011***
Put the tahini in a small bowl and pour in a little water.
Stir slowly until the texture starts to become thicker, then add more water and stir. Repeat a few times keeping the mixture more or less homogeneous.
Squeeze and add the lemon juice. (Stop at this point if using with Msabbha recipe#434826).
(Continue if serving as a sauce in itself), Chop the garlic and the parsley well, and add them while stirring.
If the tahini is too thick, add a little more water. Add the salt.
Serve with some chopped parsley on top and a sprinkling of paprika.
Enjoy!