Quick & Easy Stove Top Tuna " Casserole "

Okay, casseroles aren't made in a skillet, but this is a really easy substitute for tuna casserole. Everything is done on top of the stove, and it is great for a weeknight after working hard! Definitely not gourmet fare, so if that is what you are looking for, please don't try and review this recipe. This is just a simple, everyday quick and easy dinner.
Directions
Cook pasta according to the package directions; drain well, set aside and keep warm.
Cook celery and onion in butter in a large skillet over medium high heat, stirring constantly until tender. Add English peas, stir until warm.
Add cream cheese, milk, salt, and pepper; cook over medium heat until smooth, stirring occasionally. Stir in tuna and Parmesan cheese; cook until thoroughly heated, stirring occasionally.
Add pasta and toss well. Cover at low or warm heat until pasta is warmed up. Sprinkle with fresh parsley. Serve immediately.
Most Helpful
We loved this! I'm always looking for new and quick weeknight dinners. This tastes fantastic and is so easy to make. Great flavour and it's just good, yummy food with nothing fancy!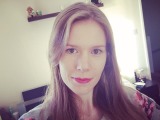 The hubby missed the mushrooms...that's a quick fix next time...we both thought it was very rich...and very filling...this makes at least 3-4 servings...I made it with homemade canned tuna...what I really enjoyed was the ease of preparation and how quickly it cooks...made this for dinner after getting home late...loved the crunch of the celery...made for FYC tag game...

Very tasty recipe. I doubled most ingredients except the dairy ingredients and came up with a great tasting "casserole". Also added zucchini and yellow squash shreds (it is that time of year) instead of peas and again - terrific taste.