Quick & Easy Old Homesteader Main-Dish Soup
katew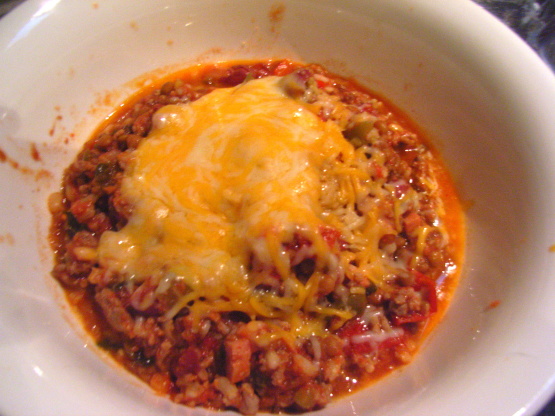 This is not gourmet fare, but it is a filling main dish soup that can be made quickly using 3 cans of vegetables/soup. Posting for a quick and easy recipe, not a savor and gourmet recipe. This is great to feed the masses between getting home from work and rushing out to a soccer game! If reviewing this recipe, please consider that this was posted as a convenience meal, not a gourmet meal!!! Saying all that, with some added sour cream and grated cheese on top, it is really quite tastey! Cayene pepper or crushed red pepper flakes can be used to add spice...left out because I considered this a quick "out the door" family meal.

This was super quick and very easy to make. Very hearty dinner on a cold dreary day. I couldn't find the Chili Soup so I subbed in two cans of Beef Vegetable Soup and followed the rest of the directions precisely. My husband really loved this, he said it was a nice change to normal chili. This would be especially easy on a late work night or on a day when the kids have ball games. Thank you for another great one breezermom! Made for PRMR!
Brown ground beef in a large skillet, stirring until it crumbles.drain. Add green pepper, onion, garlic, and chili powder.
Cook, uncovered, over medium heat until vegetables are tender, stirring occasionally. Add soup and remaining ingredients. Bring to a boil. Reduce heat and simmer uncovered for 15 minutes, stirring frequently.