Quick, Easy Oatmeal Bars With Chocolate Topping
DuChick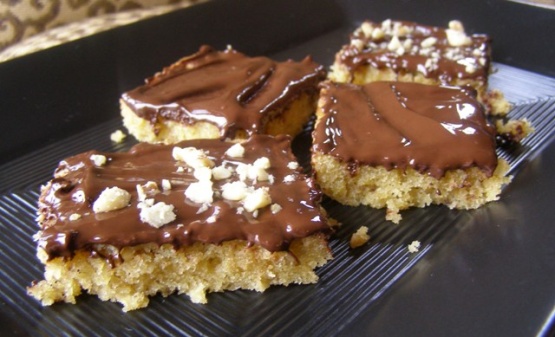 I grew up eating these. This is a recipe originally from an old Nestle cookbook that my mom adapted to suit us.

Your mom knew a good recipe when she found one! I'm glad you shared it with us. It was definitely a quick one to pull together and the oatmeal makes me feel better about eating a yummy bar! I sprinkled half with nuts and left the other half plain for my nutty kids. Made, reviewed and photo-ed for PAC Spring '08.
Combine butter, brown sugar, and vanilla and beat until creamy.
Beat in the eggs.
Add the flour and oatmeal.
Spread in a greased 9x13 pan.
Bake at 350F for 20 minutes.
Cool slightly.
Combine chocolate chips and shortening and melt in a double boiler or carefully in a saucepan.
Spread over baked mixture.
Sprinkle with chopped nuts.