Quick & Easy Low Cal Breakfast or Lunch
Bergy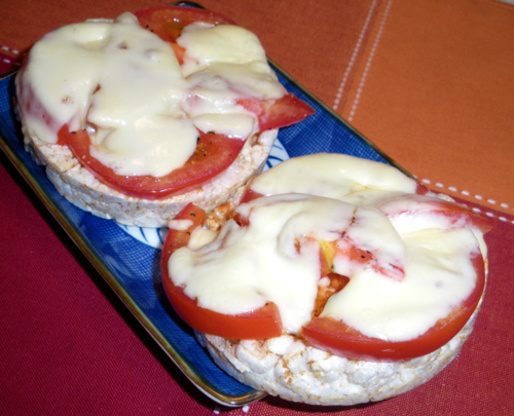 I find this a very satisfying yet low cal breakfast. I would not eat these rice cakes until I tried them with something on them. Experiment and find your own favorite.

Bergy, once again a wonderful recipe!! This was one of the best "hurry up" breakfasts! and lite too. Didn't change a thing, very tastey and satisfying, keept us right to lunch. We will have this often, it can be made in endless variety! Thanks for sharing!
2

rice cakes (you know those things that look like Styrofoam)

4

slices tomatoes
hot sauce

2

teaspoons parmesan cheese, grated
salt and pepper
Place tomato slices on the rice cakes.
Sprinkle with hot sauce (as much or as little as you want), salt and pepper.
Drizzle with parmesan.
Broil for about 3-4 minutes.