Nif_H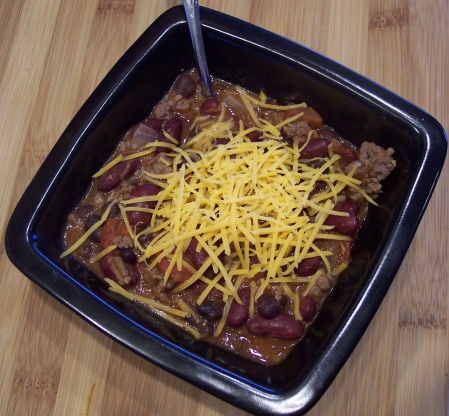 This is a very easy chili recipe I got from a Pampered Chef recipe called Hearty Six-Can Chili I found a few years ago and just leave out the 10 3/4 oz can of condensed cream of mushroom soup. I love to make this and serve with tortilla chips, sour cream and cheddar cheese. Yummy!
Place ground beef and onion in Dutch (6-qt.) Oven. Cook and stir over medium heat 8-10 minutes or until beef is no longer pink, breaking beef into small crumbles. Drain, if necessary.
Open chili beans, tomatoes and black beans, Drain and rinse black beans.
Add all ingredients including chili powder to meat mixture in Dutch Oven. Bring to a boil; reduce heat and simmer, covered, over low heat 30 minutes, stirring occasionally.