Quick & Easy Chicken a La King
Annacia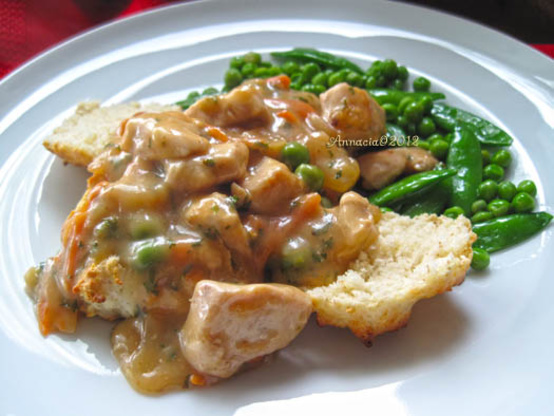 Super easy & quick version of "Chicken A La King" using ingredients you most likely have on hand. Kid friendly, too.
Place chicken in microwave-safe container, with just enough water to cover. Microwave on high until done/no longer pink in the center (12-15 minutes, depending on size of breasts).
Dice cooked chicken and set aside.
In small saucepan, melt butter. Sauté onions and carrots, with parsley, until tender.
In separate small bowl, combine cornstarch and 1/2 cup of chicken broth, whisk until smooth.
Add to saucepan/veggie mix, along with remaining broth. Bring to a boil, stirring occasionally, add frozen peas and cooked chicken. Boil for additional 2 minutes.
Serve over mashed potatoes or hot, buttered noodles.