Quick & Easy Beef Stroganoff
lazyme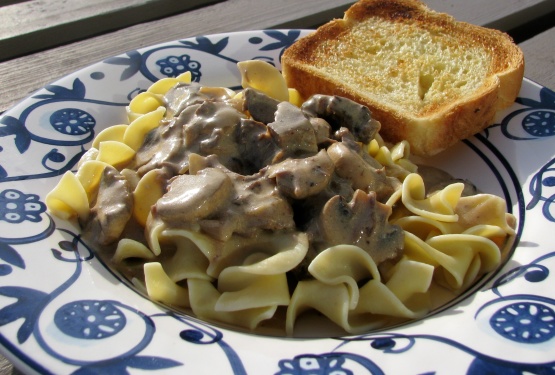 This is a quick version of the old time favorite. Its a great way to use up the leftover steak, tri-tip, roast, etc. This is a regular at our house! (I guessed at the 1 1/2 oz of brown gravy mix, I did not have one on hand to get the exact weight - just use a standard pkg)

I don't know that I'd classify this as a true stroganoff but it's along those lines and certainly quick and easy. I used mushroom gravy, just one packet and a packet of Herb Ox sodium free beef to replace the second one (working with a somewhat sodium restricted diet). I added sliced mushrooms to sauté with the onions, and I used the refrigerated minced garlic for ease. For part of the water I used Madeira wine, and since I was using leftover grilled beef I added it at the very last minute just to heat through. I did add paprika and a dash of garlic hot sauce for some zing. Because the Herb Ox substitution eliminated some of the thickener from the gravy I thickened it a little more with a cornstarch slurry, and served over buttered wide noodles.. I've used both leftover steak and roast for this, it's a great way to use leftover beef..
1

lb round steak, sliced in thin strips (or any leftover beef, one of the very best we have had was made with leftover smoked tri-tip, the sm)
1⁄2 onion, chopped

2

tablespoons butter

2

(1 1/2 ounce) packages brown gravy mix
1 1⁄2 cups water

1

cup sour cream
Saute the beef and the onion in 2 T of butter.
There will be alot of"juice" in the pan so I turn up the heat for a couple of minutes to reduce the liquid.
(Start your rice or your noodles at this point).
Add the brown gravy mix to the water and stir to dissolve.
Add gravy mixture to meat and stir constantly until thick.
If you are in a hurry, you can add the sour cream at this point and be done with it or you can simmer the meat and gravy until your noodles or rice are done, then add the sour cream right before serving.
Serve over rice or noodles.
Makes 4 large servings.
(If you like red wine, you can add 1/2 cup of red wine and 1 cup of water for the liquid).
(You can also add mushrooms if desired).