Chelsea_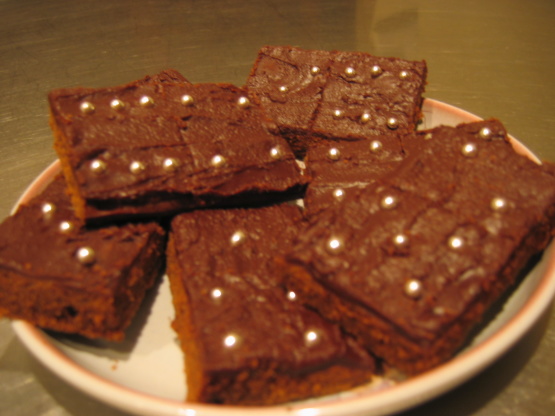 This is a wonderful, quick and easy recipe. Make cute chocolate domino pieces! It's perfect to make with the little ones! (Even my 2 year old nephew helped me out with it!) I got this recipe off the side of a 'Cadbury Bournvilles Cocoa' box. This cocoa has a wonderful chocolate taste to it, so if you can't find this specific one, look out for another sweet cocoa. I also omit the coconut, as I'm not a fan of it, but you can add in if you like it!

Omg! You have NO IDEA how much I have to thank you for this!
Last year my nephew turned 2 and I made these for the kids a bit older then him and they loved them! Even the adults did! I found it on the Cadbury Cocoa box, but I threw it away without thinking! I've been trying to find the recipe! It's great, easy and DELICIOUS! Thanks! ._.
Melt butter in a saucepan or in the microwave. Stir in sugar to dissolve any lumps. Add egg and beat well.
Sift in cocoa and flour and add coconut. Stir well.
Spread mixture evenly into a paper lined 18cm x 28cm slice tin. Bake at 160C for 30 minutes. Leave in pan to cool.
Ice with chocolate icing when cold. Mark into 4cm x 6cm oblongs. When icing is set cut along marked lines.
Either pipe dots of white icing, or use silver decorating balls to create domino effect.