Quick Dinner Using Leftover Pork Tenderloin
Myra M.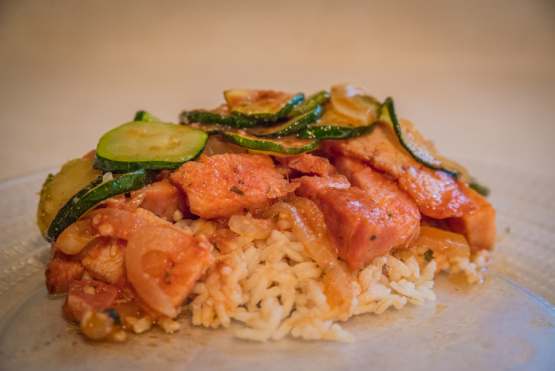 I'm always looking for ways to use up leftovers. I came up with this one last night, and it was delicious served over wild rice. I would rather have used a can of tomatoes, but hubby won't eat a cooked tomato that he can actually see...oh well!

This recipe was perfect! I believe you should follow a recipe before you decide to change it. You can tweak it the next time around. I did fear this would have a heavy tomato taste and it did not at all. I followed it, loved it and when I made it again, I "changed" it, added another garlic clove, nothing more. I'm making it again tonight for chicken. Leftover pork is always horrible reheated in any way. This recipe will save a lot of pork from being thrown out as tasteless left-overs. This sauce is a keeper, exactly the way it is presented. I use Knorr chicken bullion only. It's soft enough to press into a measuring spoon. I use a garlic press for most recipes. Add garlic for several seconds before adding liquid. No chance in it burning that way. If you don't follow the recipe exactly, you will never know how good this tastes.
In heavy sauce pan, saute onion and garlic in oil and butter until softened.
Add wine, chicken bouillon and tomato sauce, bring to a boil.
Cook uncovered at a low-boil for about 10 minutes. Add more wine or water if sauce is too thick.
Slice tenderloin into 1/2" slices and place in sauce. (I flipped them right away so sauce was on top and bottom.).
Cover pan and cook until pork is heated through, which shouldn't take more than 3-4 minutes.
Serve over wild rice.