Mandy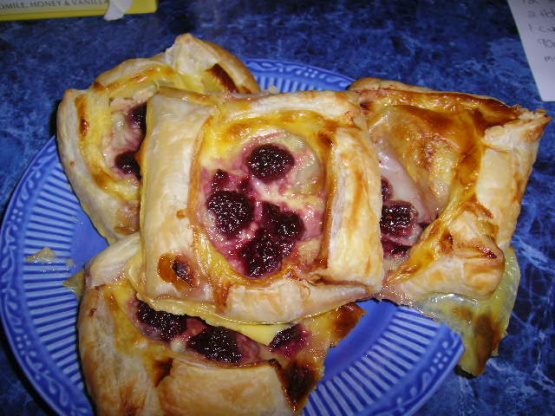 Such a simple recipe especially if you cheat & use puff pastry instead of making your own. Use a nice thick custard & don't overfill your danishes or the custard will spill over whilst cooking. I used tin raspberries when I made this...mmmmm yum!
Sift flour into a bowl, Rub in butter with fingertips & stir in sugar.
Make a well in the centre & add combined egg & milk all at once, reserving about 2 teaspoons.
Mix quickly to a soft dough, turn onto a lightly floured board & knead gently.
Roll mixture into a square shape about 1cm thick.
Cut into 4 squares & spread evenly with custard, fold corners into the centre & top with 3 or 4 apricot halves, brush with remaining milk mixture.
Arrange on a baking paper-lined tray and bake at 200.C for 15-20 mins or until cooked.
Brush with maple syrup or honey & serve with extra custard.
If preferred use squares of prepared sweet puff pastry.