This recipe comes forn the Egg Council. When I make this for someone with seafood allergies I use imitation crabmeat.
Directions
Sprinkle crabmeat and cheese into pie shell.
Beat together remaining ingredients.
pout over crabmeat and cheese.
Bake in a preheated 357 degree oven 30-35 minutes until knife inserted in center comes out clean.
Cool 5 minutes before serving.
Most Helpful
Very easy and yummy. I had a can of crab meat I wanted to use so this recipe came in handy. I like the addition of tarragon - a nice light herb flavor. I also added minced green onions in place of the dried onion. The recipe could definitely use the addition of salt - I would say about 1/2 teaspoon. Mine took about 50 minutes at 375F. I served with steamed artichokes for dinner. Pam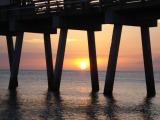 Excellant. I used the imitation crabmeat and the real thing. Nice combination. Kudos.