Kim D.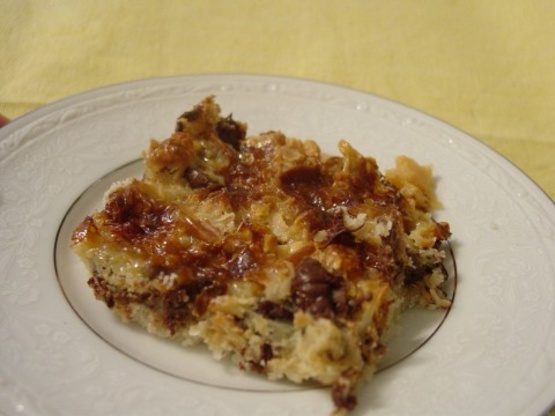 This is an old Betty Crocker Recipe. Although I tend to prefer recipes that don't use cake mixes, this recipe happens to be exceptionally decadent and delicious. Last time I made them they were practically inhaled.

i really love baking with cake mix, especially when you add goodies like coconut and chocolate chips. these were a big hit at my new granddaughter's tea, everyone loved them except the caterer. thanks for the recipe
Preheat oven to 350°.
Using a 9x13" pan, pour the melted butter or margarine into the pan and tilt it around to coat the bottom completely.
Sprinkle the cake mix over melted butter.
Then, sprinkle with the marshmallows, then the chocolate chips, then the coconut and lastly, the nuts.
Pour the condensed milk evenly over all.
Bake for about 30 minutes, until golden brown.
Remove from the oven and run a knife around the edges to loosen.
Then let it cool before cutting into 1 1/2 x 1" bars.
Makes about 6 dozen cookies.
Note: To save yourself a step and a dish to wash, you can put the butter or margarine right in the baking pan and heat it a low oven before raising the heat to 350° to preheat.
Also, I found that in some ovens it might brown a bit too quickly.
Check it while baking.
If it does brown too quickly, cover with tin foil to keep it from browning any more, and remove for the last 5 minutes or so of baking.