Sara 76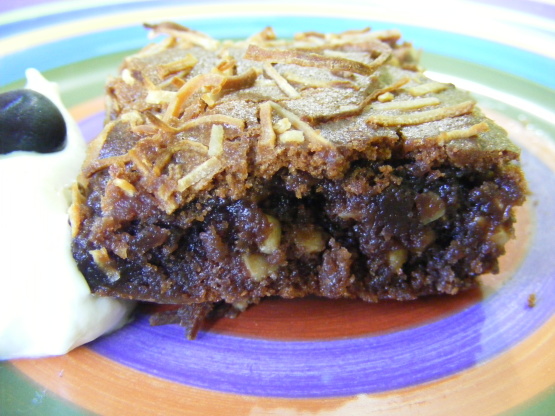 This is a no butter version of the American classic..it's still good and gooey though. Best eaten on the day that it's made.

I forgot to put pecans on my shopping list, but had some crushed peanuts in the pantry, so I mixed those through just before I poured the mixture into the cake tin. I also sprinkled some shredded coconut on top. I doubled the recipe and baked it at 200C for the first 10 minutes, but as the edges were starting to burn and the centre was still very gooey, I dropped the oven back to 150C for another 10 minutes. The brownies are rich and gooey, and have been a big hit with my kids! Very easy to make, and the no butter didn't seem to make a difference at all! Thanks for sharing :)
Preheat the oven to 200 degrees C/ 400 degrees F/ Gas 6.
Using a little of the sunflower oil, grease and line a 9" shallow cake tin.
Melt the chocolate with the remaining oil in a heatproof bowl over simmering water, stirring until smooth.
Beat the eggs lightly, then add to the chocolate, stirring vigorously. Beat in the flour, sugar and vanilla essence and pour into the prepared tin.
Arrange the pecans on the top and bake for 10 minutes ( if you like a chewy brownie) if you like a more cake like brownie bake for an extra 5 minutes.
Cut into squares and leave in the tin to cool.