Quick Cinnamon Streusel Coffee Cake
Calee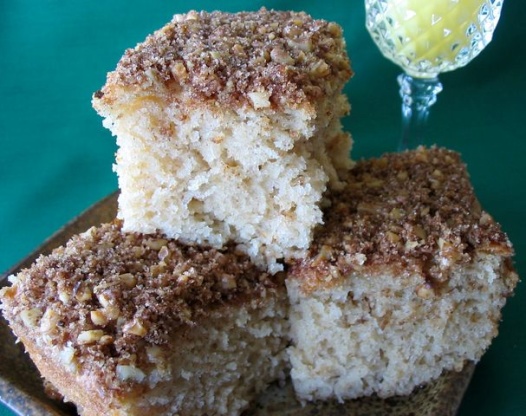 This quick and delicious coffeecake comes from Cook's Illustrated Magazine. They suggest that to make this recipe even easier, to prepare the streusel ingredients and measure out the dry ingredients for the cake the night before.

Excellent recipe, the cake is nice and moist. I used plain yogurt instead of buttermilk, and I used pecans in the streusel topping. I must confess I doubled the recipe for the streusel, and put the extra streusel topping in a container in the refrigerator to sprinkle on top of oatmeal at breakfast.
For the streusel: Mix sugars, cinnamon, and melted butter together in medium bowl until mixture resembles wet sand; stir in nuts and set aside.
For the cake: Adjust oven rack to middle position and heat oven to 350 degrees. Generously coat 13 by 9-inch baking pan with nonstick cooking spray.
Mix flour, baking powder, baking soda, cinnamon, and salt together in large bowl. Whisk buttermilk, sugars, eggs, and melted butter in separate bowl until smooth.
Using rubber spatula, gently fold egg mixture into flour mixture and stir until batter looks smooth and well combined.
Using rubber spatula, scrape batter into prepared pan and smooth top.
Sprinkle streusel evenly over batter.
Bake until streusel is golden and toothpick inserted into center comes out with just a few crumbs attached, 40 to 45 minutes.
Cool cake on wire rack for 15 minutes before slicing and serving.
Serves 8.