Quick Cinnamon Rolls - No Yeast
Dine Dish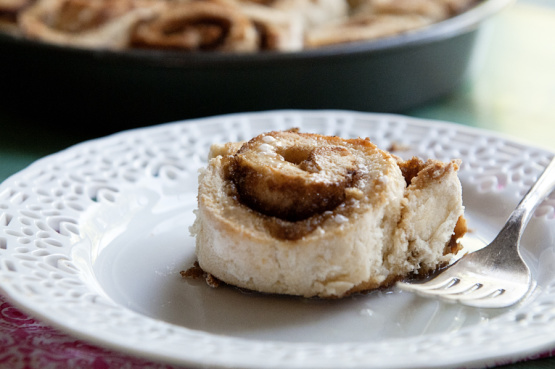 These wonderful cinnamon rolls are on the table in an hour - no waiting for hours or overnight. They are simple and quick to put together.

Okay, so I read all the reviews and tried a bunch of different ways. Here is my two cents:

1. Leave the dough recipe as is. Adding an egg will make it stickier than necessary.

2. Love the filling recipe, but I added chopped walnuts to it. I also used it solely in the rolls, not at the bottom like the original recipe said to because if you do, it'll caramelize at the bottom into an ooey gooey mess.

When you are cutting them cut them about 1.5 to 2 inches thick. They will spread out horizontally but not height wise (unless you add yeast) so the height you cut them at will be about what they stay.

3. Bake it at 300 instead of 400...gets the dough gooeyer (is that a word??) It will take longer but WORTH it. Bake it only under the tops start to firm and if you stick a toothpick it comes out clean.

4. Bake them in a spring form pan (about 7-8 per pan, leaving room to spread out). Trust me on this one, that way you just pop the outer pan off when they are done and serve!

5. As you are letting them cool take a knife and gently slip it around the corners of the spring form pan and each other, so they pull apart nicely.

6. Once cool, add about 4 tbsp melted butter on top of the rolls to get them nice and buttery soft. Then put on the icing, pop the spring form pan, and serve!

TRUST ME. I baked these until I got a batch I liked and this is what worked. Love how quick this is though. No waiting on them to rise or messing with yeast. My whole family approved of them!
For the filling, in a small bowl combine softened butter, brown sugar and cinnamon to form a crumbly mixture.
Sprinkle 1/2 of the mixture over the bottom of a 9x9 pan.
In a large bowl mix together flour, sugar, baking powder, and salt.
Cut in softened butter (sometimes your hands are the best tools).
Stir in milk to form a soft dough.
Roll out dough on a lightly floured into a rectangle about 1/4 inch thick.
Spread the remaining filling on the rolled out dough.
Roll up the rectangle, with a sharp knife slice into 18 small rolls (12 if you want them a little bigger).
Bake for 20-25 min at 400°F.
For glaze, combine powdered sugar and milk in a small bowl and stir until smooth.
Once rolls are finished, drizzle on glaze and serve warm.