Quick Cinnamon - Nut Rolls
PaulaG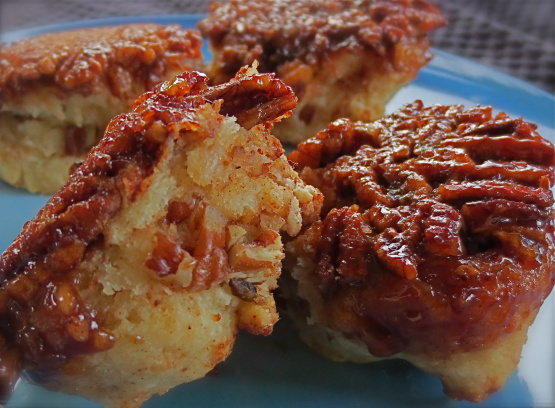 This recipe combines the simplicity of a baking powder biscuit, with the gooey deliciousness of a cinnamon roll. I have been known to double the topping! These rolls are on the smaller side - they will serve 4-6 depending on how much sweet you want.
Rolls

1

cup flour
1 1⁄2 teaspoons baking powder
1⁄8 teaspoon salt

3

tablespoons cold butter, cut up
1⁄3 cup milk

Filling

1⁄4 cup brown sugar, firmly packed
1⁄4-1⁄2 teaspoon cinnamon

2

tablespoons butter, very soft (use more if needed)
1⁄4 cup nuts, chopped (pecans or walnuts are best)

Caramel Topping

1⁄4 cup brown sugar, firmly packed
1⁄4 cup nuts, chopped (pecans or walnuts are best)

2

tablespoons milk
1⁄2 teaspoon cinnamon
Preheat oven to 425 degrees, lightly spray or butter the bottom of a 8" or 9" cake round cake pan.
Rolls.
Put all the ingredients for the topping into the pan stir together and spread evenly over the pan, set aside.
Stir together dry ingredients, cut in the cold butter until the mixture looks like fine granules, add the milk stirring with a fork until the dough comes together into a soft dough (add a touch more milk if needed).
Turn the dough out onto a lightly floured surface and give 10 kneads (You can refrigerate the dough for 10 minutes at this point if desired, wrap in plastic if doing so). Roll dough into a rectangle, about 16x12 inches.
Filling.
Brush dough with soft butter leaving a 1" border along one of the long edges. Mix together the brown sugar, cinnamon, and nuts, sprinkle over the buttered dough. Starting with the long, buttered edge closet to you, roll up jelly roll fashion, when you reach the other edge gently pinch the dough together sealing in the filling. Cut the dough into 16 slices, place them cut side down on top of the brown sugar mix in the pan, spacing slightly apart.
Bake 25 minutes, or until nicely browned. Invert immediately ontoa serving plate and remove pan (scrape any left behind goo, onto the rolls, then go put the pan in the sink, fill it with hot water to soak), cool rolls slightly and serve.