CandyTX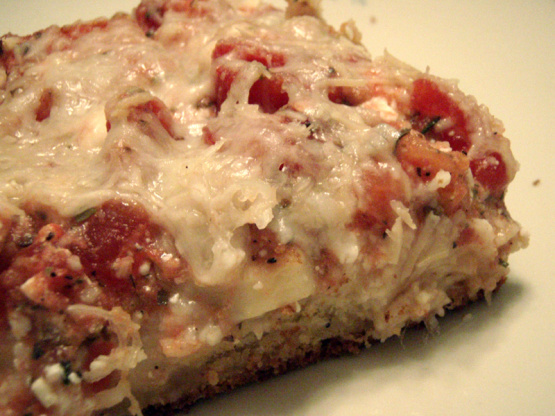 This recipe is quik and easy. It is low in fat and absolutely deliscious. If cut into small portions, this recipe is perfect for appitizers. If you are looking for something loaded with flavour, well, you have found the right recipe.

This is my new latest obsession! I thought I would need some sort of sauce, but the blend of flavors in this hold their own! Great with a glass of red wine.. wow!!
Crust-- Sift first eight ingredients together in a bowl.
Combine yogurt and oil together in a seperate bowl.
Make a well in the centre of the dry ingredients and pour yogurt and oil mixture into the well.
Carefully fold ingredients together until dough forms.
Knead dough into a ball and let stand.
Topping-- Combine first seven ingredients of topping in a bowl.
Roll dough out onto a pizza pan or cookie sheet.
Spread half of mozzarella onto dough.
Spread topping evenly over cheese.
Sprinkle the rest of the mozzarella along with the parmisan over topping.
Bake in oven preheated to 400 for 20 to 30 minutes.
Enjoy!