Quick Chicken With Gouda Gravy
jrusk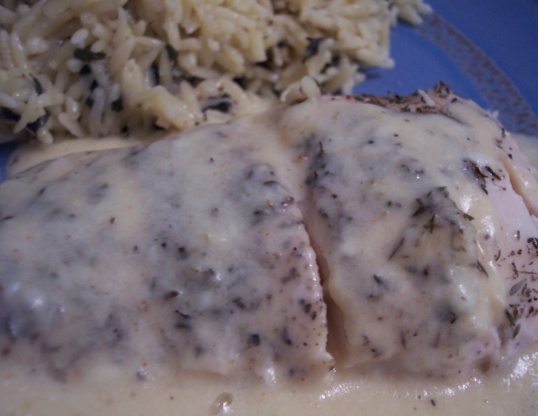 This is from Rachael Ray. Gouda is great. I use a grill pan for the chicken and enjoy the chicken alone for a quick low fat meal.
Found this very yummy. I took 2 chicken breasts and pounded them, and cut them into chunks, then cooked them that way. I also found it a little too much thyme, but will make again with less. Thanks for the quick dinner recipe! Served with rice, carrots and salad
Season both sides of the chicken with thyme, salt and pepper.
Heat pan with olive oil or spray with pam.
Add chicken, cook for 6 minute each side.
In a small heavy saucepan, melt butter. Add flour, cook for 1 minute.
Whisk in chicken broth and 1/2 cup milk until thickened, 2-3 minute.
Season with salt and pepper.
Using a wooden spoon, stir in cheese in a figure-eight motion until melted.
Remove from heat.
Slice the chicken at an angle and top with the gouda gravy.