This was a quick dish for leftover chicken. You make it and freeze it, it freezes very well.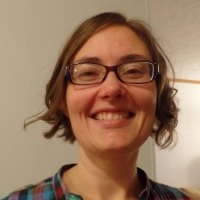 This was ok. It was kind of bland, I think more garlic and adding oregano, basil, and parsley would have helped it. It would be good with some green peppers thrown in too. As the other reviewer said it was sharp and runny. For the sharp, I added somewhere between 1/4 and 1/2 cup of ketchup. The runny wold have been better described as soupy; there was that much liquid. The recipe did not specify to drain the cans, so I did not. The resulting liquid inspired me to cook my pasta right in the Cacciatore pan. I added 8 oz pasta, covered and simmered for 9 minutes (or as the box directs). Not sure I would make this again, at least not without making quite a few changes. Thanks.
In a heavy pot heat olive oil over medium heat.
Add onion and garlic and cook until onion is soft.
Add the chicken, cook until warmed.
Add the wine and simmer for 5 minutes.
Stir in the tomatoes, stewed tomatoes, and mushrooms and bring to a boil.
Boil for 2 minutes and then reduce heat to low and simmer for 30 minutes.
You can go longer only makes the flavors blend more and more.
Serve over pasta.