Quick Chicken and Rice Salad (low Fat)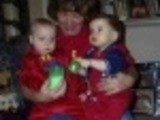 I am posting this because so many people seem to be looking for Healthy Options. This salad is quick to put together taking only about 10 minutes. Good for lunch or supper.
Directions
In a bowl whisk the first five ingredients together.
Add the remaining ingredients.
Chill slightly.
Garnish with starfish, if desired.
Most Helpful
Delicious and healthy--a great summertime salad.