Quick Chicken and Corn Soup
Derf2440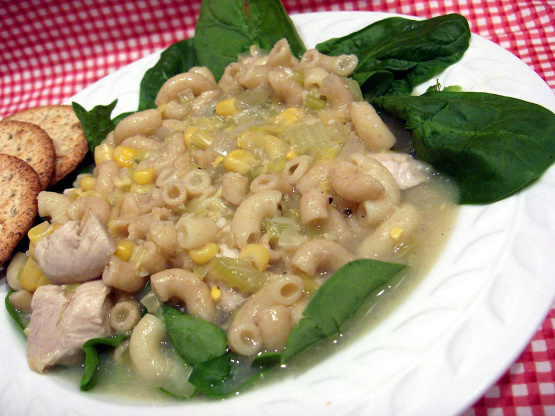 Top Review by Gerry
Another great tasting soup to add to my ever growing collection. Love how easy it is to make. Other than using four cups of water and adding precooked pasta (that is what I happened to have on hand) made as posted with excellent results. The leek as always makes for that special flavor we love. Made for Auz/NZ recipe Swap. Thank you - we enjoyed, it is one that will see to repeats.
Place the chicken, stock and water in a large pan pan. Bring to the boil, then simmer for 10 minutes over a medium to low heat. Transfer the chicken to a bowl, then strain stock into a jug or a bowl.
Heat the oil in the pan over medium-low heat and add the onion, garlic, celery and leek and cook, stirring occasionally for 5 minutes or until the onion is soft. Add the strained stock and bring to the boil.
Meanwhile, cut the chicken into small pieces. Add to the soup with the pasta and creamed corn and return to the boil.
Reduce heat to medium-low and simmer rapidly, stirring occasionally, for 15 minutes or until the pasta is al dente. You may need to add a little extra water if the soup becomes too thick.
Season to taste with salt and black pepper.
To serve, add a handful of sliced spinach to the base of each bowl and ladle over the hot soup. The heat will wilt the spinach.