alligirl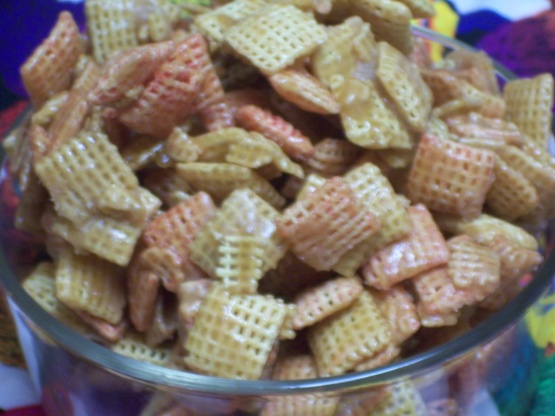 Simple, quick and yummy. Four ingredients. Cook syrup in microwave, mix with chex and cool on cookie sheet. Can't get much easier than that.

doubled everything. (need to use bigger bowl next time in the microwave! whoops!) added a few small drops of watkin's caramel extract. MMM! thanks for an on hand ingredient snack recipe thats quick and painless to make! sooo good!!! :)
Combine brown sugar, corn syrup and margarine.
Microwave on high for 1 minute Take out and stir until blended.
Return to high setting until boiling (about 2 1/2 min).
Cook 3 minutes longer.
Add Rich Chex.
Spread out on cookie sheet and cool.
Break into pieces.
*Can add nuts when mixing with Chex.