Quick Cheesy Oyster Cracker Snacks
jonesies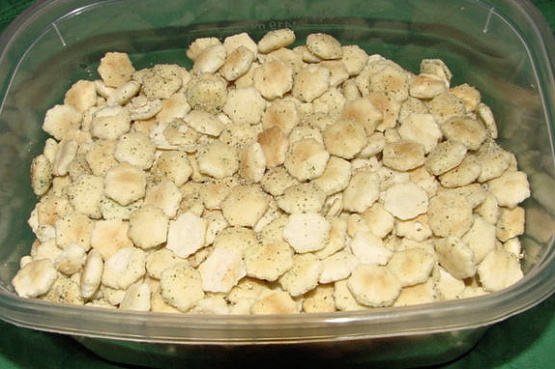 This quick and easily made snack is quite addictive. I never seem to make enough when friends visit but they never seem to mind waiting while I make more. It's also good for practicing your "pan flipping" skills. This recipe is made with "popcorn seasoning". Although I used Cheddar cheese powder in this variety, many other flavors are available. I also like Nacho, Parmesan, and Cheddar/Bacon. You can get these and many other flavors from www.SpiceBarn.com.

This technique makes a great snack with lower fat that other methods. I have now used this for many flavors, I happened to post the picture of the ranch flavor, but have used many of the popcorn seasonings also. I love any snack that I feel good about giving to my family, and this is one of them! Thanks for submitting this awesome pan flip method!
oyster crackers
aresol spray olive oil (Not the pump spray type)
cheddar cheeze popcorn seasoning
In a sauté pan add Oyster Crackers about 2 or 3 layers deep.
Turn the flame on low.
Spray the oil liberally on the surface of the crackers.
Before the oil soaks in, liberally sprinkle the Cheddar powder and a little salt.
"Flip"the crackers in the pan and repeat the last step about 3 or 4 times until they are well coated, tasting as you go, until they reach the flavor that you like.
Caution: Be careful not to spray the oil into the open flame.
When you reach the intensity of flavor that you like, remove from the flame and let cool or eat them warm-- ENJOY!
If you like these-- try other flavors of popcorn seasonings.