BarbryT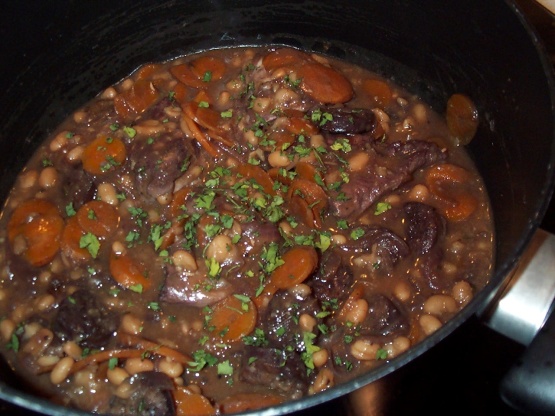 Vive la France! Real bistro cooking - quick and tasty. This one comes from the CANADIAN BEAN COUNCIL via Vicki Gabereau's CBC radio program. (On occasion, I have been known to double both the wine and the beans ... heck, I ALWAYS do it!)

Top Review by Marich
Gerry...this turned out great. I made it a day ahead of time then put it in the oven to re-heat. I made fresh bread crumbs seasoned with parsley and garlic and put that on top till heated through and golden. and YES, I doubled the wine! Thanks
In a large, lidded stovetop casserole, heat the oil over medium-high heat.
Brown the chicken, and remove.
Brown the sausage.
Add the chicken, carrots, onion and garlic and saute for 2 additional minutes.
Drain off the fat.
Stir in the wine, bay leaf, thyme and pepper.
Cover and simmer over low heat for 15-20 minutes, or until the chicken is no longer pink.
Stir in the beans and heat through.
Sprinkle parsley on top.
NOTE: Instead of dry red wine, you can substitute 1/2 cup of chicken broth and 1 tbsp of red wine vinegar.