Quick Caribbean Quesadillas
Prep 10 mins
Cook 15 mins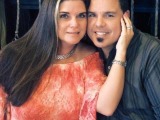 Not your average quesadillas, these are filled with a mixture of Swiss cheese, bacon and pineapple for a fun and unforgettable meal.
1⁄4 cup honey mustard
2 tablespoons pineapple preserves
8 (10 inch) flour tortillas
1 1⁄2 cups shredded swiss cheese
2 tablespoons butter
2 cups chopped cooked chicken
1⁄2 cup crumbled cooked bacon
1 1⁄2 cups unsweetened pineapple tidbits, drained
Directions
In a small bowl, stir together the honey mustard and pineapple preserves.
Divide the mixture evenly between 4 of the tortillas.
Spread evenly to within 1 inch of the edges. Distribute the Swiss cheese, chicken, bacon evenly over the pineapple mixture; top with remaining tortillas to make quesadillas.
Preheat the oven to 250 degrees F.
Heat a large skillet over medium heat.
Melt a small amount of the butter in the skillet, tilting the pan to cover the surface with butter.
Place one of the quesadillas into the skillet, and fry on each side until lightly browned and the cheese has melted, about 1 1/2 minutes per side.
Keep cooked quesadillas in a warm oven while you fry the remaining.
To serve, cut each quesadilla into 6 wedges and arrange on a platter with pineapple tidbits in the center.
Reviews
Most Helpful
We really enjoyed this variation of quesadillas. I seasoned my chicken with some onion powder and garlic to give more flavor. It was delicious. I think next time I am going to add jerk seasoning to the chicken to give even more flavor! Thank you for posting this great recipe!!
These were a cool variation on quesadillas. I didn't have any cooked chicken on hand, though I'm sure it would have been good and I used canadian bacon. I also used crushed pineapple instead of pineapple preserves and dribbled some Pickapeppa sauce across the filling, as well as on the side for dipping. Really nice flavors - though for my family's preferences, I think I would use monterey jack cheese next time instead of swiss. Thanks for sharing!

Haven't yet been to the right store to get pineapple preserves, so I made my own by adding a well-drained [squeezed & blotted!!] small can of crushed pineapple to some apricot pineapple preserves! The cooked chicken I had was shredded, & that worked fine, too! The result was a very tasty meal for 4 of us! This is definitely on my 'to make again & again' list! Thanks for posting it!