Quick Butternut Squash Soup
rickoholic83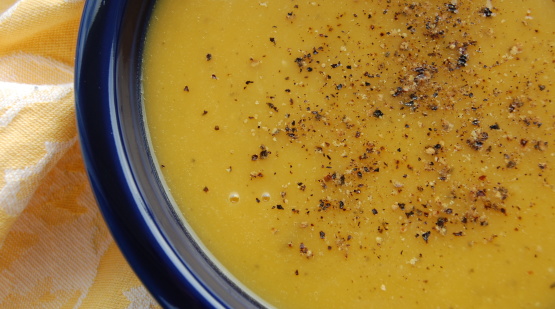 Here's a quick, light and creamy soup that warm you on the coldest night. Add some hearty whole grain bread and a tossed salad to make a very satisfying meal.

Forgot to mention that I poked the whole squash with a few pricks and microwaved on high for 10 mins. until soft. Cut it in half, scooped out seeds and added cooked squash to pot. This saves lots of time peeling, etc.
Add oil, garlic and onion to large stockpot over medium heat.
Saute for 3-4 minutes.
Add sage, salt, pepper, broth and squash.
Bring to a boil.
Cover, reduce heat and simmer for 20 minutes (or until squash has a tender consistency).
Use stick blender to lightly puree, leaving some chunks, or puree half of the soup in a food processor or blender and return to pot.
Garnish with parmesan cheese and more fresh sage (if desired).