tmtiwary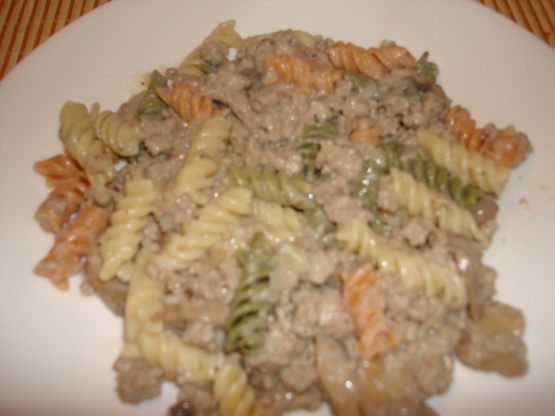 Easy, fast, low-fat stroganoff. Great for folks on LAWL.

I used ground turkey and I cooked it on the stove top. Basically same directions, just slightly altered for a skillet. I added the cooked noodles at the end and then served it. This was quick and easy to make, plus the kids liked it. Thanks for sharing.
Crumble ground beef into a 3qt glass casserole. Add onion. Cover and microwave 5-7 min until cooked. Stir once during cooking. Drain and crumble. Rinse if neccessary. Stir in soup, mushrooms, water, and Worcestershire sauce. Cover and microwave 3-5 minutes or until bubbly. Stir once during cooking. Stir in sour cream. Microwave 1-2 minutes more. Stir, cover and let sit 5 minutes before serving. Serve over hot, cooked noodles.
*Ground turkey may be substituted - use 1 1/2 lbs of ground turkey.
1 serving=1/4 of recipe.
LAWL count: 1 protein, 1 veg, 1 starch.