Quick-Braised Carrots With Butter
Velouria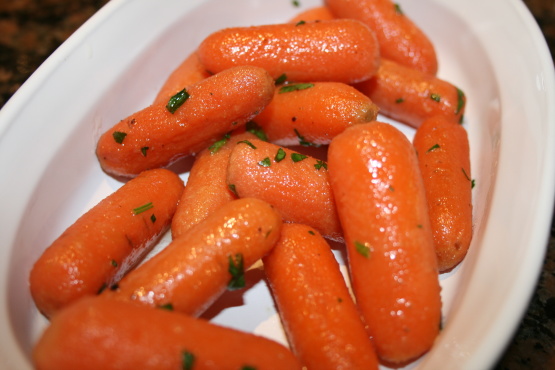 I never really enjoyed eating cooked carrots until I found this recipe. It comes from a cookbook by Mark Bittman. I prefer making this with the butter and maple syrup. It makes a great combination.

Simple and very delicious. The maple syrup enhanced the natural sweetness of the carrots. So simple to prepare on a busy week night and quick but elegant for a side to a formal dinner. Thanks Velouria. (Have made this again with the sugar - it's that good and soooo simple!!)
Place all ingredients except the fresh parsley or mint in a medium saucepan over high heat, bring to a boil, and cover.
Turn heat to medium-low and cook for 5 minutes.
Uncover saucepan and raise the heat a little.
Cook, stirring occasionally, until liquid has evaporated and carrots are cooking in butter or oil.
Lower the heat and keep cooking, stirring occasionally, until carrots are tender (not mushy), a couple of minutes longer.
Taste and adjust salt and pepper if necessary.
Garnish with the fresh parsley or mint and enjoy!