Lvs2Cook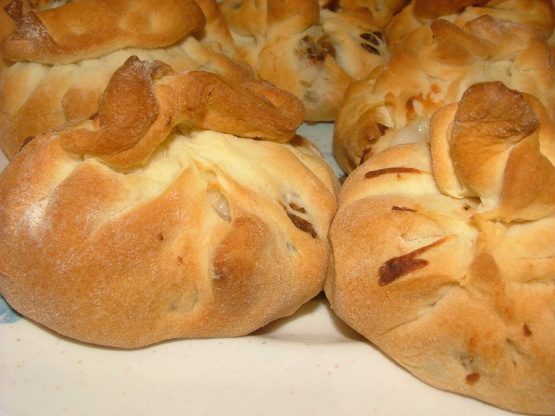 One of my husband's favorites! My sister gave me the recipe many years ago. Not gourmet by any stretch of the imagination but definately good food!

Wow, this was really good. I did make a couple of changes which really didn't affect the end result. I doubled the beef and used a whole onion and green pepper, chopped. I added about 4 cloves of chopped garlic, some seasoned salt and coarse ground pepper. I doubled the breadcrumbs and barbeque sauce. For the crescent rolls, I used two 8 oz packages and used the rectangle--two triangle rolls--for each bun. I just rolled out the perforations. So, I got 4 buns per package. I actually added about 1/3 cup beef mixture to each bun. I forgot the cheese--oops! I twisted the tops and sides together, fixed any holes and brushed with the egg yolk. Baked the same and they were DELICIOUS! I hope my changes make sense. I knew my DSs would want these meatier. Thanks for a great recipe!
Cook beef, pepper & onion in skillet over med. heat until brown. Remove from heat and stir in bread crumbs, barbecue sauce and salt. Set aside.
Preheat oven to 375º. Separate crescent roll dough in 4 rectangles on lightly floured board. Roll dough in 8x4 rectangle-cut crosswise in half. Place 2 tbsp of meat mixture on each half. Top with some mozzarella. Pull corners of dough toward the center and twist. Pinch to seal. Place buns on greased cookie sheet. Repeat with rest. Makes 8 buns.
In small cup, beat egg yolk and 1 tsp water with fork until blended. Brush top of buns.
Bake 10-15 minutes or until golden.