Quick Beef-&-Bacon Chili & Beans
diner524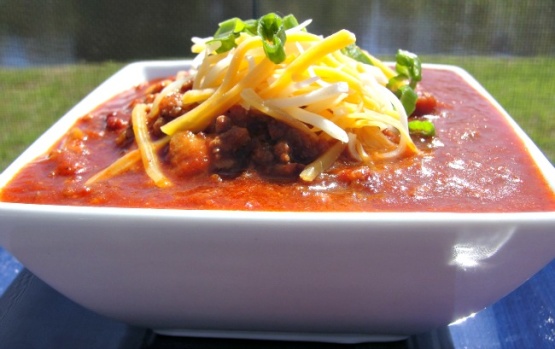 Another winner from our "The Chili Cookbook" by Norman Kolpas. This was easy to make, came together quickly, and made for a tasty lunch. We omitted the sour cream as neither of us really care for it.

This is by far the best GROUND BEEF chili recipe that I have ever tried. Like another reviewer, I did double the amount of bacon in it as well as the chili powder as I thought that it needed more chili flavour after tasting it at the beginning of the simmering stage. I will definitely use this recipe again and again with these slight modifications.
In a large saucepan, heat oil over medium heat. Add garlic, onions, bell pepper and bacon, and saute until onions are translucent and bacon begins to color slightly, 2 to 3 minutes.
Add beef and saute, stirring to break up meat into fine particles, until evenly browned, 7 to 10 minutes.
Add chili powder, cayenne and cumin and saute 1 minute more.
Add remaining ingredients, except garnishes, bring to a boil and continue simmering until thick, about 20 minutes.
Serve in individual bowls garnished with cheese, onion, and sour cream.