gailanng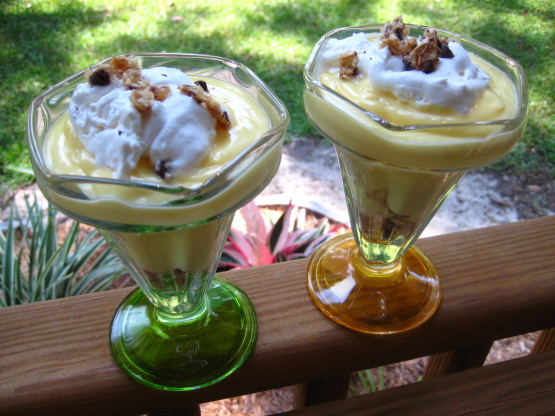 My own concoction---yeah, another one. LOL Make this in quicktime for dinner or snack! Feel free to place ingredients in glasses in any order you prefer.
Place granola bars in heavy duty plastic bag; seal; and pound to crush.
Reserve about 2 tablespoons of granola for sprinkling.
Spread remaining granola in bottom of 4 parfait glasses--equally.
Slice banana and sprinkle with lemon juice to keep it from turning brown.
Divide banana pieces among parfait glasses; place over granola, fitting in tightly.
Mix very cold Half/Half or milk with pudding mix.
Whisk to blend thoroughly.
Immediately divide among glasses over bananas.
Using the end of a wooden spoon, remove any air bubbles from pudding in glasses.
Top with dollop of whipped cream; sprinkle with reserved crushed granola.
NOte: If not serving immediately, refrigerate.
ENJOY!