Quick Bacon Broccoli Salad
Annacia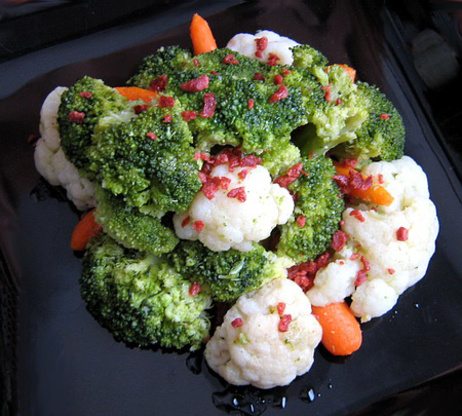 I've made this many times as a hurry-up side dish. When trying to figure out which region this recipe represented, I finally closed my eyes & picked one. Italian? Well, the word broccoli does come from the Italian "brocco" meaning arm branch so it kind of fits. Enjoy!

DH said that he would try this if I didn't put in the onion. Since the man does not, as a rule, eat salads I agreed. He actually like it! That alone is worth 5 stars. I used some cauliflower in this as I had it and thought that it would be nice, it was. It could have been a bit less sweet for me but DH thought it was perfect. It was really very good and very easy to make. Thanks for a great salad Susie. Made for 1-2-3 Tag.
Cook bacon in microwave until crisp. (I've used pre-cooked & packaged bacon in a pinch).
Cook broccoli in microwave until crisp tender, 8-10 minutes. Drain.
In a large bowl, toss drained broccoli, carrot & onion.
In a glass bowl or measuring cup, combine vinegar, sugar & oil. Microwave on HIGH for 2 minutes then pour over vegetable mixture. Toss to coat.
Add salt & pepper to taste.
Serve arm or chilled (I prefer warm.).
Crumble bacon over top when ready to serve.