Quick and Tangy Marinated Sweet Peppers
Zurie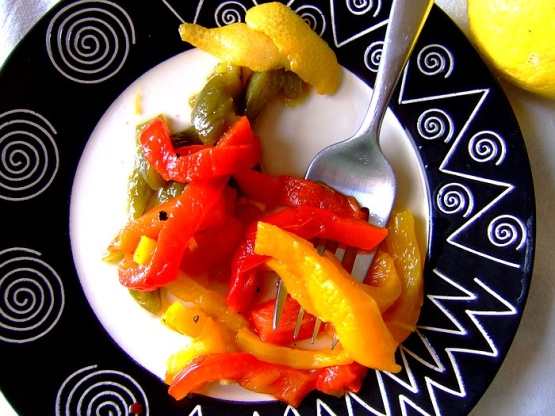 I bought very nice peppers a couple of days ago, and made this marinade in order to preserve them for days, for many uses! There are several recipes for marinated or pickled peppers on Zaar, but the marinades are different. This recipe contains no oil. It's easy to make and will last for a long time, covered, in the fridge, due to the high acid content. Serve this with salads, toast, meats or on an antipasto platter. It is pleasantly tangy: please adjust the sugar to your taste, but don't leave it out as the marinade will be too acidic without it. Experienced canners can easily bottle this -- I was a little too lazy to do that! (Number of servings is a wild guess: it all depends how you use this!)
2

bell peppers, green

2

bell peppers, red

2

bell peppers, yellow

7

fluid oz vinegar (200 ml, apple cider or wine vinegar, spirit vinegar is very harsh)
1⁄3 cup water (actually a little more -- 100 ml)

3

tablespoons sugar (use more if you like)

1

teaspoon flaked sea salt (if table salt, use less)

2

teaspoons ginger, fresh, finely chopped

1

teaspoon garlic, finely chopped (or more, to taste)
1⁄4 teaspoon black pepper, coarse-ground
1⁄2 teaspoon dried hot pepper (or use a hot sauce)
1⁄2 lemon, zest of (use a potato peeler)
Heat oven to 375 deg F/ 190 deg Celsius.
Place the peppers snugly together in an oven dish. When oven reaches the correct heat, put the peppers in the oven.
In the meantime, mix the vinegar, sugar, water and salt in a small pot.
Peel and chop the ginger and garlic and add to the pot, also the coarse black pepper and chilli/hot pepper flakes. (You can use fresh hot chillis as well, but remove the seeds first and then chop finely).
The potato peeler should have yielded thin blobs of lemon zest without the white pith. Add that to the pot as well.
Stir, bring to the boil, and turn off the heat.
In the meantime, the peppers in the oven should char and blister lightly on the outside. Turn them with a long-handled fork. When blistered all over, take out and cover with a thick kitchen cloth until cool enough to handle.
They will be very soft and cooked, but that also makes them easier to digest!
Peel off the thin outer skins, remove the seeds, stem end and ribs, and cut into rough strips. I layered the strips from green to red in a glass bowl which also has a plastic lid for storage.
Carefully pour over the marinade (actually just like pickling liquid). Push some of the lemon zest into the pepper mixture, otherwise they all stay on top.
Cool, cover, refrigerate, and start using the next day.