Quick and Simple Taco Soup
Prep 10 mins
Cook 10 mins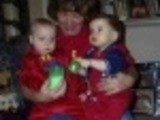 I like this tasty soup because it is so quick and easy to put together. After work I often don't have energy for anything complicated. The ingredients from this seem to be different from most of the other taco soups listed here. I believe this one originated from Campbells - as you can almost tell by the ingredients :)
Directions
Brown the beef, onion and green pepper.
Pour off fat.
Add remaining ingredients.
Simmer 10 minutes.
Stir often.
Most Helpful
This soup was very quick to make and I did make some alterations. Instead of tomato soup I used tomato sauce and for the beans I used Bush's chili beans. Also added a bit more taco seasoning. When ready to serve I crushed some tortilla chips in the bottom of the bowl, added soup, than topped with sour cream and shredded cheddar cheese.

I thought the combo of soups and beans was strange, but since I saw a 5 star review I decided to try it. The baked beans just didn't go well with it at all, maybe some kind of mexican style beans would work alittle better, but the baked bean flavor just wasn't right. The saltiness from all the soups was almost nauseating. I'm sorry, but nobody here liked it and I had to throw it all out.
You're right, this was easy to put together and very tasty. I wasn't sure what size taco seasoning package you used but I found I had to use two 30g (1 oz.) packages to get a good, spicy taste. I also added about 1 cup of frozen peaches and cream corn, just a personal preference but I think a good addition. We served this with shredded old cheddar, a dollop of sour cream and taco chips. Thanks for the great recipe!