Quick and Lite Chicken Quesadillas
Bergy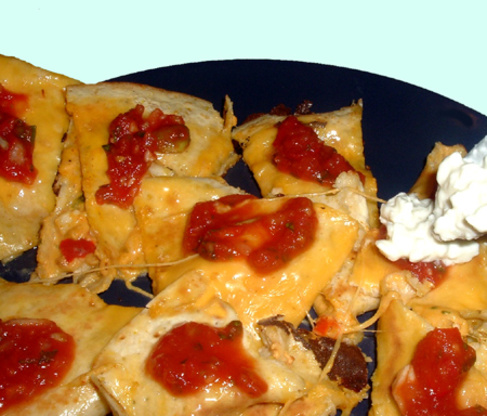 These are a lighter version of the old favorite. Quick for a snack or a meal for the whole family!

Super Quick and yummy! Served with Lettuce, Tomato, onion, and Sour cream. I would also add in olives but I didn't have any in the house. It was really good. The family loved it. And since I only had a few minutes to get dinner on the table, this was perfect! Thanks!!
in large bowl, add chicken, salsa, taco seasoning, cheese, and mix well.
heat griddle to medium heat, or heat oven to 350f degrees.
spread equal amounts of chicken onto 4 of the tortillas making sure to get as close to the edges as possible. cover with remaining tortillas.
spray griddle with cooking spray, if using oven, spray tops of tortilla with cooking spray (and again when you turn them). cook for 3 minutes on each side or until cheese is melted.
cut into 4 pieces and serve with a dollpe of sour crean on each.
Enjoy!