Quick and Healthy Chicken Enchiladas
PaulaG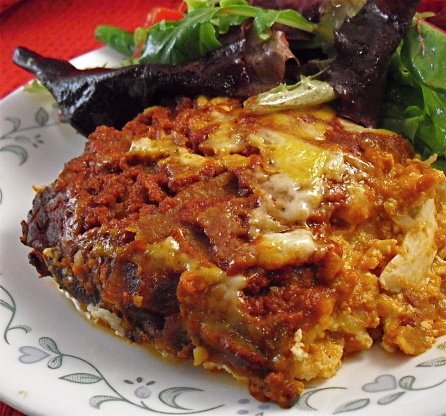 This is my grandson's favorite enchiladas - and he doesn't even know that they are healthy! From Quick and Healthy Cooking.
My 12-year-old son has been making these for our family dinners for 3 years now and we all love it! It really is quick and easy! We layer ours, making half with corn tortillas since my mom has a gluten allergy, and top it with lettuce, tomato, and sour cream.
Preheat oven to 375ºF.
Mix first six ingredients and set aside.
Spray a 9x13-inch baking dish with non-stick cooking spray.
Pour 1/2 can of enchilada sauce in bottom of pan.
Follow either method below for layered or rolled.
Bake for 20 to 30 minutes or until heated thoroughly.
ROLLED METHOD:.
Place about 1/3 to 1/2 cup of filling on each tortilla and roll to enclose (cracks in tortillas are not as noticeable after cooking).
Place seam side down in baking dish.
Top with remaining sauce.
LAYERED METHOD:.
Follow this order; 1/3 of the tortillas, 1/2 of the filling, 1/3 tortillas, 1 can of sauce, remainder of filling, remainder of tortillas, remainder of sauce.