Quick and Easy Thai Soup (Chicken)
Um Safia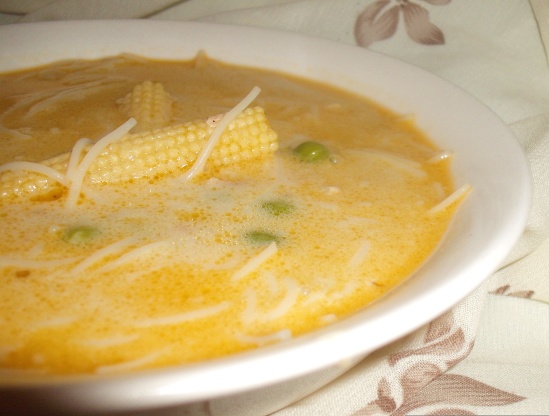 Ready in 30 minutes! A really yummy soup of Thai influence. Since posting this recipe I have cooked it many times & it's now become a firm favourite. when I make it these days I make the following changes: 1. swap 1/4 tsp homemade harissa for the chilli's 2. swap 1L water mixed with 2 chicken stock cubes for the 800 ml stock 3. only use 1 tsp sugar, swap 250g fresh rice noodles for the 300g egg noodles 4. use extra curry powder 5. use oyster sauce in place of fish sauce. I also cook it for about 8-10 minutes longer so all the flavours really meld well.

This was so quick to make and made a terrific summer soup. The soup was very flavorful, but did seem a tiny bit thin. I would reduce the liquids some if I were wanting a heartier soup next time or making it in the winter. That said, I will make this one again! Reviewed for ZWT3.
heat the oil in a large pan and cook the onion until soft. Stir in the curry powder; cook over a low heat for a minute.
De-seed and finely chop the chillies and add to the pan with the stock, coconut milk, sugar, and fish,soy and chilli sauces. Cut the chicken into small pieces and add to the pan. Bring to the boil, cover and simmer for 10 minutes.
Add the baby corn and the peas, simmer for another 5 minutes. Add the lime juice and noodles, simmer for a minute. Serve hot.