Quick and Easy Stove-Top Tuna Noodle Casserole
MsSally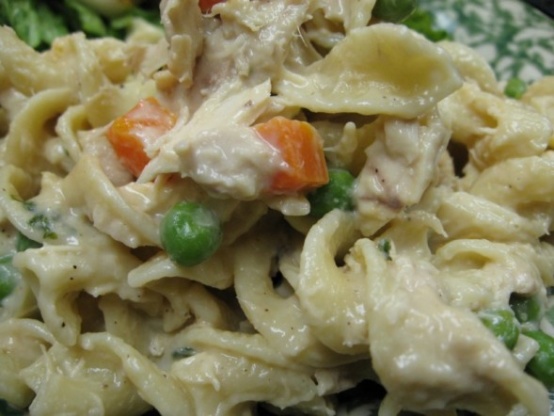 This recipe is as easy as making a box of macaroni and cheese (almost), and it's a one dish comfort meal. I've been making this as long as I can remember, and don't think I ever had a recipe for it. When I made it this week, I looked to see if it was posted, and I could only find recipes with "cream of whatever" soup or sour cream, and most of them required baking in the oven. This recipe is creamy and delicious from the simple bechamel (white) sauce. This is a flexible recipe, too. I love to use a generous amount of a mixed pepper blend, freshly ground, for seasoning because I don't like bland food. I've also used lemon pepper seasoning, and/or freshly snipped chives and parsley. It's up to you to choose your favorite seasoning or herbs to go nicely with the tuna. Tuna noodle casserole is one of the most popular American casseroles, and is common is any region of the U.S.

Top Review by Saulo
This was a great and easy recipe! Fast to fix, easy to adapt, and, best of all, my 5-year old daughter, who is a very picky eater, loved it so much that she ate it all up without I or my wife having to tell her to "eat her food"!!! The only changes I made were replacing the noodles with wheat penne pasta, adding 1/4 tsp of dried garlic, and 1/4 cup of Parmesan cheese in the end. I didn't use pepper either, since my child doesn't like it. Thank you so much for a great-tasting recipe! Saulo
2

tablespoons butter

2

tablespoons all-purpose flour

2

cups whole milk

1

teaspoon kosher salt
1⁄2 teaspoon ground pepper, less if you prefer less spice

1 -2

tablespoon of chopped fresh herbs, such as chives (optional) or 1 -2 tablespoon parsley (optional)

2

(6 ounce) cans tuna, drained (I prefer albacore solid packed in water)
1 1⁄2 cups frozen peas

8

ounces wide egg noodles, cooked
Cook the egg noodles.
During the last few minutes add the frozen peas to the simmering noodles; then drain.
Meanwhile, melt the butter in a medium saucepan over medium heat.
Whisk in the flour, and continue whisking for about 2 minutes or until the flour butter mixture starts to turn a beige color (a very light colored roux).
Continue whisking and slowly add 1 of the cups of milk, incorporating the liquid as you whisk; then add the remaining 1 cup of milk.
Let it come to a gentle boil, stirring regularly to keep from burning on the bottom of the pan as it thickens.
When it's thick enough to coat a spoon and leave a strip behind where you ran your finger through the coating on the spoon, it's ready to add the drained tuna.
Break up the solid tuna chunks with a fork and mix throughout the sauce.
Add the salt, pepper, and any seasonings or herbs.
Pour the tuna sauce over the noodles and peas, and serve.