Quick and Easy Stir-Fry Beef
Bergy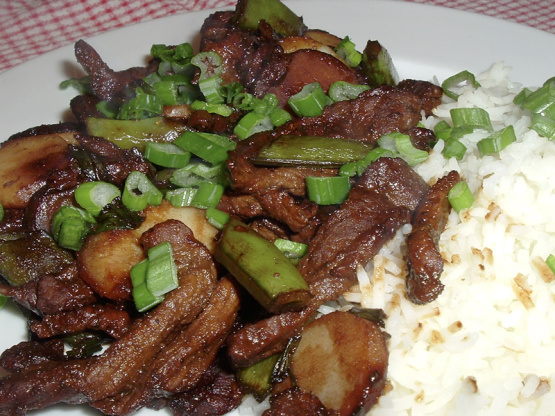 Great and EASY stir fry dish. I found this online in rec.food.recipes. I am planning to try it later this week with tofu for a veggie meal.

Such a great, easy recipe to throw together--yet so enjoyable! I added ginger in a tube to the marinate and red peps and two Thai chilis to the stir-fry. You could add any vegie, like broccoli. Yums!
Rinse rice in pot, and cook (follow package directions).
While the rice is cooking, slice flank steak in thin slices (approximately 2 inches long by a quarter inch wide) and place in marinade.
Make sure that the steak is coated in marinade.
Wash pea pods and pinch off the ends.
Chop the green onions and slice ginger.
Heat large skillet on high heat.
Drop 1 tbsp olive oil onto skillet.
Put meat and marinade in skillet and fry until brown.
Add more olive oil if necessary.
Add ginger and green onions to skillet.
Fry 1 minute.
Add the pea pods and water chestnuts.
Fry until pea pods are hot but not soggy.
The rice should be finished by now.
Serve stir-fry over rice.
NOTES: I use small package of Green Giant frozen Sugar Snap Peas so I don't have to wash and prepare the fresh vegetables.
I microwave them for 2 minutes to defrost them.
You could also substitute other vegetables for the pea pods such as chopped broccoli or chopped green peppers.
You can also add more vegetables, such as carrots and/or peppers.
I also buy the steak "thin sliced", and cut those slices up.
Makes it cook really fast and a bit more fun to eat.