Quick and Easy Spinach Bread
mianbao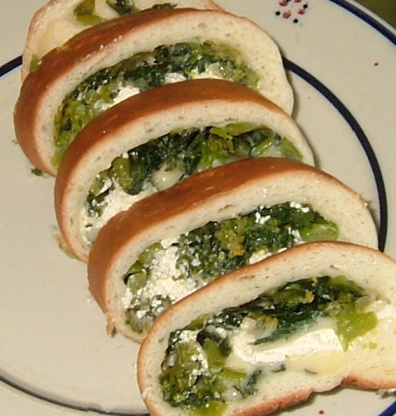 This is a wonderful, easy bread. Great for a cookbout. It is good with an Italian meal or if you use the Feta Cheese with a Greek Meal

What amazing flavors! I used the mozz/feta combo and added a thin layer of pesto, as another reviewer suggested. Oh yum. This recipe is a perfect venue for experimenting.....tomato, cooked chopped broccoli, bacon.........
Preheat oven to 350 degrees.
Spray a baking sheet with non-stick cooking spray.
In a large skillet heat olive oil over medium heat.
Cook garlic until soft, do not brown.
Add spinach and cook for 1 minute.
Stir in salt, pepper, and Parmesean.
Remove from heat and cool.
On a lightly floured surface roll out pizza dough to a 10 x 14"rectangle.
Evenlly spread out spinach mixture and sprinkle with mozzarella or mozzarella/feta mixture.
Roll up the crust to make one large loaf.
Pinch seam to seal Place loaf on baking sheet.
Bake for 20-25 minutes until golden brown.