Quick and Easy Spaghetti with Meat Sauce
teresas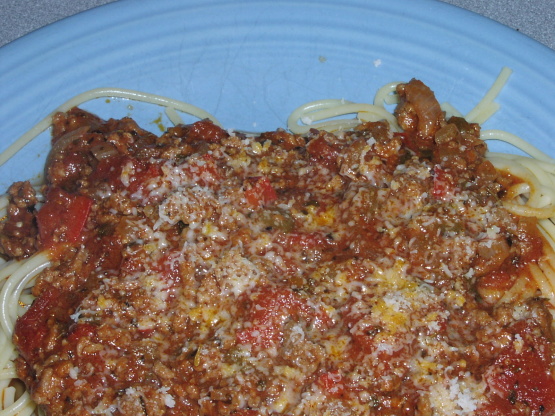 Magnifico! Classic spaghetti with meat sauce ready in about 45 minutes! MMMMMMMM

This is a very nice sauce and was very easy to prepare, as well as very quick. The directions were very clear and accurate. The taste was good, but didn't quite suit our tastes. I felt the peppers and the thyme were very pronounced, and even though I love those two ingredients, they overwhelmed the sauce for me. This, unfortunately didn't go over as well with my family as I had hoped.
Heat olive oil in a shallow soup pot.
Sauteé garlic until golden, then add onions and peppers.
Sauteé until onions are starting to become translucent, then add beef, and season with salt and pepper.
Brown until cooked through (about 10-15 minutes).
Drain grease.
Add wine (if using) and allow to cook for a couple of minutes.
Add tomato sauce, tomatoes, boullion cube, parsley, oregano, thyme and basil, salt and pepper and sugar.
Stir to combine and bring to a boil.
Boil for about 1 minute then reduce heat to med-low and simmer 20 minutes.
Serve over spaghetti, top with parmesan cheese and serve with crusty french bread.