Quick and Easy Skillet Potato Halves
alligirl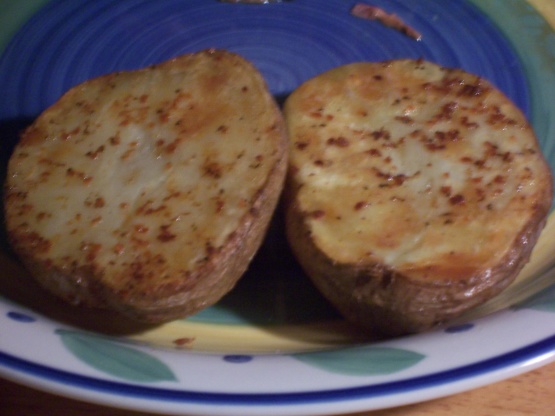 A fast and tasty way to cook potatoes. Think a combination of baked and fried. Only two ingredients. No hassle cooking while you prepare the rest of the meal. This is a family favorite. The recipe can be adjusted without effort for the number of people you plan to serve.

My husband really liked these, I found them a little bland and a bit dry. I will try this again cooking the potatoes a little longer. Thanks!
Heat a lidded skillet on the stove over medium heat.
Scrub potatoes and cut in half lengthwise.
Place butter in skillet until melted.
Spread butter evenly over the bottom of the skillet.
Place potato halves cut side down in skillet.
Cover and reduce heat to medium-low.
Cook for approximately 30 minutes until potatoes are fork tender and the cut surfaces are golden brown.
Serve with additional butter and salt as desired.