Quick and Easy Sauteed Imitation Crab
Derf2440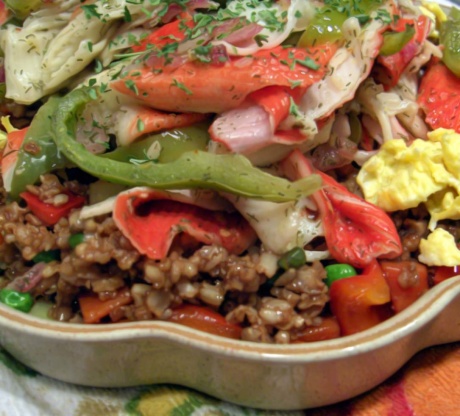 This is a quick goooood recipe when you need dinner quick. Serve with a bed of rice YUMMMMMMMMMY! Sometimes I make individual casserol dishes and sprinkle seasoned breadcrumbs on top then run under the broiler.

Quick, economical, low fat and calorie~~over all, pretty good. I really liked the lemon and unfortunately only had 1/3 cup and no zest. Added a squirt of bottled lime and some lemon pepper to compensate. Used sliced small sweet peppers, yummy! Served over quinoa. Will make again for sure.
Heat butter (add a touch of olive oil)in a saute pan over medium heat.
When hot add onion, green pepper, and garlic.
Saute until onion and green pepper have softened.
Add crabmeat, dill, red pepper flakes, wine, and lemon juice and zest.
Heat until hot.
Top with parsely and serve with rice.