Quick and Easy Ravioli Soup
-Sylvie-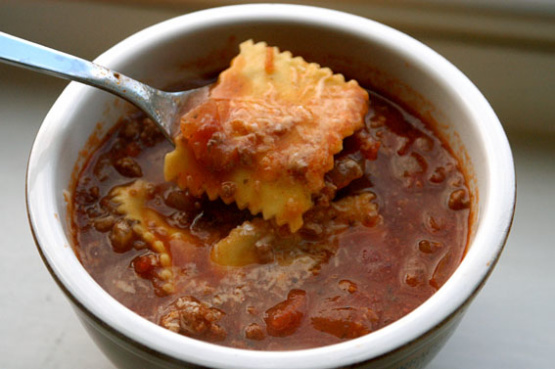 This is quick and easy, yet delicious! I serve this soup with a fresh salad and lots of warm garlic bread.

I made this for my boyfriend (I don't eat meat.) and he said he enjoyed it. I used turkey meat, instead of beef, and substituted vegetarian broth for the beef broth. I also used chopped red onion, not the white. The boyfriend said he'd eat it again soon!
In a Dutch oven, brown ground beef; drain.
Add all ingredients, except for the Paremesan cheese and ravioli.
Bring to a boil.
Reduce heat; cover and simmer 30 minutes.
Stir in the Parmesan cheese.
Cook ravioli according to package directions; drain and add to soup.
~NOTE~I normally use the cheese filled ravioli because that is the kid's favorite.
But you can use a different type of filling to satisfy your taste, such as roasted chicken or Italian sausage filled ravioli.