Quick and Easy Pumpkin Squares
Lainey39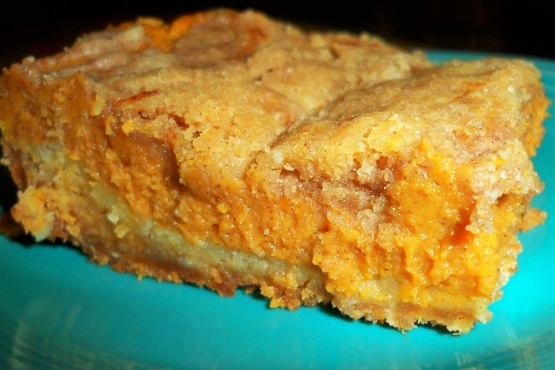 With a yummy crust and pumpkin pie filling,this delicious dessert from my childhood is loved by all! My husband's boss liked it even though he doesn't like pumpkin.

Absolutely delish!!!! Just like pumpkin pie...only better in my estimation. Due mostly bc of the yummy tasting crust. So much better than traditional pie crust. These will be made again in place the normally requested pumpkin pie. TYSM!!!!
Made for PRMR.
Preheat the oven to 350 degrees.
CRUST: Empty cake mix into a bowl. Cut in 1/2 cup butter until mixture forms moist even crumbs. RESERVE ONE CUP MIXTURE. Add the egg to the remaining mixture and stir until crumbled together.
Spoon into a 9" x 13" greased pan and press lightly to form an even layer. Bake for 10 minutes and remove, but leave the oven on.
FILLING: Beat two eggs until foamy. Beat in pumpkin, milk, spices and 1/4 cup of brown sugar. Pour on top of baked layer. (It should be liquidy but don't worry - it will bake up fine.).
TOPPING: Combine reserved crumb mixture with 1/2 tsp cinnamon, 1/4 cup brown sugar and 1/4 cup butter. Sprinkle to form an even layer of crumbs on top of the pumpkin batter.
Bake until custard is slightly set in the center, about 30-40 minutes. Let cool completely.
GARNISH with whipped cream or ice cream and serve!