Quick and Easy Peanut Butter and Jelly Cookies
k2oneal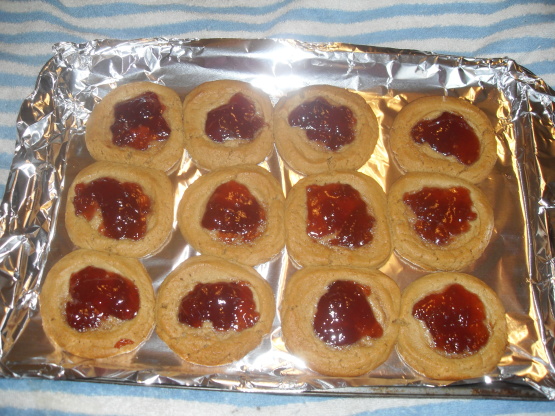 I have not tried this recipe. I got this recipe from Holidays Of The World Cookbook For Students. This is a American recipe. I plan to use Splenda for baking in place of the sugar and sugar free jam or jelly.

These cookies were a great surprise. I wasn't sure what to expect with the short list of ingredients, but they turned out very well. I made half of them with strawberry preserves and the other half apricot. The only issue was the baking time. At 18 minutes mine were starting to burn on the bottoms so I took them out. All in all though, a very easy everyday recipe that I will definately make again. Thanks for sharing internetnut! Made for Bargain Basement tag game.
1

cup peanut butter (plain or chunky)

1

cup sugar

1

egg, beaten
1⁄2 cup jam (more or less for garnish) or 1⁄2 cup jelly (more or less for garnish)
Preheat oven to 350.
In medium mixing bowl, mix peanut butter, sugar, and egg until well blended.
Form dough into ping pong size balls and place 1-inch apart on cookie sheet. Flatten slightly, and, using your finger or handle of wooden spoon, poke a dimple into the top of each cookie.
Bake in oven for about 25 minutes, or until light brown around edges and firm to the touch.
When cooled to room temperature, fill each dimple with 1/4 teaspoon of your favorite jam, for garnish.
Serve as a sweet snack with a glass of milk.