Quick and Easy Oven Fries
Bergy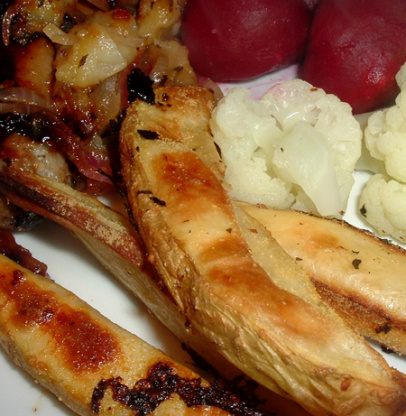 Cheesy and herby potatoes. I like Desiree potatoes for this. I like my potatoes really crunchy, so cook them for longer.

Top Review by Bergy
Excellent flavor. I prepared the chips bit differently using the same recipe ingredients. I tossed the potato wedges in the Italian dressing, baked them on an oven stone for apprx. 25 minutes, took them out & sprinkled parmesan on them. Returned them to the oven for apprx 10 more minutes. They were golden and loaded with flavor. Thanks Sherrie-pie for an excellent oven fry recipe
Preheat oven to 220C/425F/Gas7/ Clean potatoes, dry and cut into wedges. Arrange in lightly greased ovenproof dish.
Bake for 20 - 25 minutes, or until tender. remove from oven. Sprinkle with pepper. Preheat the grill. Line a baking tray with foil and lightly grease.
Transfer the wedges to baking tray. Lightly brush with half the salad dressing. Sprinkle over half Parmesan cheese. Grill wedges for 2 minutes, or until golden brown.
Turn potatoes over. Brush with salad dressing. Sprinkle over the remaining Parmesan. Grill wedges for 2 more minutes or until golden brown.