Quick and Easy Onion Rings
alligirl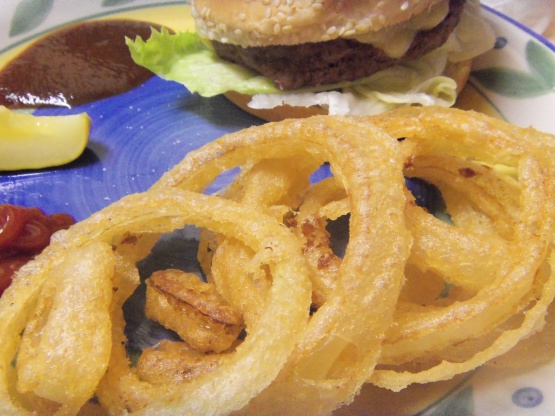 Beer batter onion rings. Mild taste, great flavor. My kids love to make and eat these.

These were just what the title said: quick and easy! I'll add another adjective, too: GOOD! I used a vidalia onion, and only made enough for the 3 of us. I also made a mistake, and used cayenne instead of chili pepper. Just grabbed the wrong one, but it was great like that, so no worries! Thanks so much for sharing, winging it! Made for Fall PAc 2011.
mix beer and dry ingredients in large bowl.
Heat oil in fry pan or equivalent.
Separate onion slices and gently mix in with beer mixture.
Carefully put coated onion slices in hot oil, just enough for one layer at a time, they will stick together if touching. Cook for about one minute until lightly brown and drain on paper towels.