Quick and Easy Garden Chicken Pasta Salad
VickyJ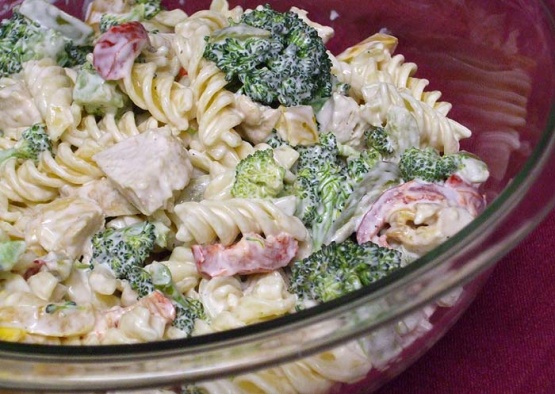 An extremely easy pasta salad from Kraft Foods. You can substitute or add any other ingredients you like. I sometimes add cubed mozzarella, Parmesan and fresh chicken. I'm making it today with cheese tortellini. This is my potluck "staple" in the summertime. Time does not include chill time.

Easy to make and, boy, is it tasty! I made this for the MEP cookathon almost as written. Didn't bother blanching the broccoli since we like it crunchy raw. For the color, I threw in a hand full of grape tomatoes because the red pepper I bought was moldy inside. !!! I'll be making more of MEP's recipes soon.
709.77

ml rotini pasta (8 oz.) or 709.77 ml pasta, of your choice cooked and drained (8 oz.)

473.18

ml broccoli florets, lightly blanched

354.88

ml three cheese ranch dressing or 354.88 ml regular ranch dressing

170.09

g package cooked chicken breasts, cuts or 0 chopped red pepper

118.29

ml chopped green pepper

118.29

ml slivered onion
Toss all ingredients and refrigerate.
Can be made up to 2 days ahead.
Serve chilled or at room temperature.
Can be easily doubled.